We have the means to address your needs!

Digital Printing
What is it?
Essentially, it means to print directly from a computer to a digital printing press. This provides high quality printing very quickly without the additional time and costs associated with conventional printing which requires printing plates, setup, and clean up.
Go Digital!
In today's business environment, you need to options. In terms of printing, there's traditional offset and digital. Both are necessary and play a very important role in achieving printed results. Traditional offset is great for long runs and unique paper.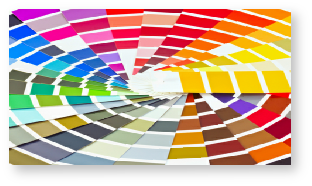 With deadlines getting tighter, and an increased emphasis on one to one marketing, the role of digital printing isgrowing. At Walt's Mailing Service, we offer professional quality digital printing. We provide on-demand printing for projects with short turn-around times, and we offer a variety of paper stock options. We can even enhance the printing project with variable data.
Variable Data Printing (VDP)
Variable data printing is the ability to change text and images on printed pieces on an individual basis. Any image or text block can be changed, based on criteria you define. This allows you to be more targeted with your marketing because each piece is unique as it comes off the digital press.
For example, say you want to produce a large postcard for your car dealership to promote a new line of vehicles. Let's say two years ago Nancy purchased a new sedan and John purchased a new quad cab truck. Both are past customers, and you want to maximize their interest in the new models so you decide to use VDP. You supply Walt's a database with the name and address of each recipient and a vehicle type, or code, of how you want to target for each recipient. When we print the postcard project, Nancy will have a message and an image of the sedan. Likewise, John's version will have a theme and message tailored to the new line of trucks.
With the use of selective bits of information strategically placed within a mail piece, we can help turn your generic message into one that gives your customer a better sense of familiarity with your product or service. This opens up a whole new world of creative marketing possibilities – how might we help you?