Walt's Mailing Service knows how important it is for each campaign or cause to spread it's message. We deliver the message - your message.
Commitment to Success:
Mail Advertising is an important part of nearly all political campaigns. A mail piece can present the candidate's values, experience, and commitment. A well designed and written mail piece can help the voters judge what really matters and help you, or your candidate stand out.
Walt's Mailing Service is here to take care of the details of your mail so you can concentrate on your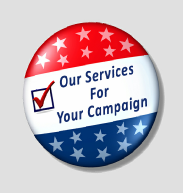 campaign. We understand the sensitive nature and deadlines associated with political mail. In addition, you can trust that we will not disclose the content or timing of your information to unauthorized persons.
Whether you are a candidate, political consultant, or campaign manager our commitment and expertise to mail will aid in your success.
Voter Lists:
The audience is critical to the success of any mailing campaign. You can count on us to supply clean data ready for mailing at the lowest possible postage rates. We also eliminate duplicates and process each list to meet USPS Move Update requirements. Lists are available by:
Voter History:
• Must have voted in 1 of the last "X" general, primary, or special elections
• Must have voted in a particular election
• Choose by political party preference
• New Voter's or Daily Mail
• And much more...!
2016 Important Dates:
Ballots are required to be mailed
at least 18 days before the election, but they can be mail before that date.
Typically, a good time to mail is
20 days before each election.
Another good time to mail is either the last Tuesday or Wednesday before the election.
June 17 - Military / Overseas Ballots Mailed for August Primary
July 4 - Independence Day
July 13 - July 15 - Primary Ballots Mailed
August 2 - Primary Election
September 7 - Labor Day
September 24 - Military / Overseas Ballots Mailed for General Election
Oct 19 - 21 - General Ballots Mailed
November 8 - General Election